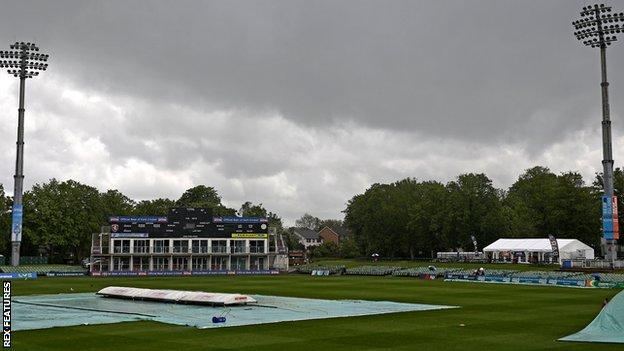 LV= County Championship Group Three, The Spitfire Ground, St Lawrence, Canterbury (day four):
Kent 307: Stevens 190; van der Gugten 4-34, Neser 4-67 and 60-1 dec: Cox 27*
Glamorgan 64-3 dec: Root 26*; Quinn 2-10 and 23-1
Kent (12 pts) drew with Glamorgan (11 pts)
Scorecard
The climate was the victor in Canterbury as hefty storms destroyed an ambitious endeavor by Kent and Glamorgan to set up a run-pursue.
The umpires settled on the decision to end the match at 13:45 BST.
Glamorgan were 23-1 at that point, with David Lloyd the man to fall, pursuing an objective of 304 to win.
The arrival of onlookers was generally a saturated issue, with just Darren Stevens' awesome first-innings thump of 190 to lift home allies' spirits.
It was a disillusioning result after the choice from the two skippers to seek after a positive outcome.
Glamorgan pronounced their first innings on their overnight complete of 64-3, while Kent pregnant a fast 60-1 preceding pulling in.
The first objective was 304 of every 84 overs at 3.62 runs per over, yet after Lloyd played on to Matt Quinn for a fast 17, the downpour got back to make conditions unplayable.
Kent mentor Matt Walker said:
"It (concurred revelations) is something that is floated out of the game a tad. We thought 300 off 80 was a very decent condition, it gave us enough overs to bowl them out, yet in addition a run rate which we thought was reasonable on what was presumably a day two wicket.
"Darren Stevens' innings was most likely an exception somely however; in the event that individuals can get in here it's very simple to score.
"We might have played for extra focuses, we might have attempted to let the game take its regular course however taking 17 wickets in a day is extreme.
"We addressed their mentor and their skipper. Generally there's a touch of arranging going on when you go to a side with an objective, however they were content with it so it was genuinely clear. It's a disgrace since I figure it would have been a great round of cricket, regardless of whether you win or lose."
Glamorgan lead trainer Matthew Maynard revealed to news Sport Wales:
"The affirmations were simply to get a game in. The two sides have been disappointed with the climate in the course of the most recent three weeks or something like that and there were swarms in, so we needed to give the public a game to follow as opposed to simply play for extra focuses on the most recent day, however shockingly the climate put paid to that.
"We bowled fabulously well in the primary innings to get in the position we did (Kent 128-8) however Darren Stevens did what Darren Stevens can do. I thought it was a superb, ambitious innings however we allowed several opportunities and we likely didn't squeeze (tail-ender Miguel) Cummins.
"Enchanted with the manner in which the folks have been in the initial seven games. We need a couple of more associations with the bat and some enormous hundreds, yet with the ball I'm enchanted – we've bowled straighter than earlier years and it's delivered profits, and we've gotten well.
"Marnus (Labuschagne) is a tough player, you don't will number three on the planet without any problem. He's two or three nice balls and a questionable lbw choice in this game. Those things occur and I'm certain Marnus will score a lot of runs for us, this season as well as in seasons to come."